Profotos Online - Who We Are
The people working behind the scenes at Profotos Online are dedicated to helping professional photographers in every way on the Internet.
Larry E. Davis, Jr. - President and Founder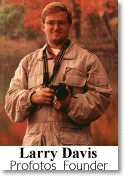 Larry's vision in photography on the Internet is what gave birth to the idea of the Profotos Online site. With a background in professional photography and web site design/programming, Larry's vision was to design a site, which would incorporate several areas of his expertise. Larry wanted to design a site where other photographers could display their work and learn more about photography through articles, galleries, etc. This vision is what is now "Profotos Online". To learn more about Larry, click here to read his personal biography.
---
Thank you to our contributors
We would also like to say "thank you," to all of our contributing authors, visitors and members. Without your input and help, Profotos.com would not be what it is today. In fact, Profotos.com would not even exist without you! Thank you!
Other "About Us" Topics:

FREE SCHOOL INFO
Select "Photography" under
Program of Study to see
Photo Schools





The Member Galleries at Profotos.com have won many awards and accolades from around the world. Click here to apply for your own Profotos.com gallery.
Check out the galleries of our member photographers and experience an interactive online photography exhibit like no other!