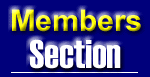 1.Become a Member
2.Member Selection
3.Benefits Summary
4.Member List
5.Testimonials
6.Refer a Friend
Refer Your Friends to Profotos!

---

Tell Your Friends About Us
If you like what Profotos has to offer photographers, please fill out the following form to refer your friend(s) for our valuable services. To refer your friend(s) to our site, all you need to do is press the button below and fill out the short form that pops up. Our "Refer" buttons are placed throughout the site for you to refer your friends to Profotos whenever you wish.

THANK YOU FOR REFERRING US!




Profotos >

Members > Refer Profotos to Your Friends!