Airshow Photo Tips

by Tyson Rininger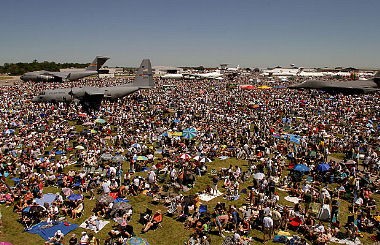 Did you know that more people attend air shows than any other past time activity in North America? Not only are they the perfect outdoor activity for the entire family but also their safety record has set precedence for all other sporting events across the nation.

According to the International Council of Air Shows (ICAS), between 15 and 18 million people attend air shows annually. You would think there were a few cameras in that crowd. With so many people and so many photos to be taken, how are you going to keep your images original? Where is the best place to photograph? What does it take to get that perfect photo? Hopefully the following text will provide some insight as to the secret of capturing the essence and spectacle of air shows.
Equipment
A friend once told me, "It's not the arrow that hit the target; it was the archer's skill which caused it to do so." Although your equipment does play a vital role in the creation of your images, it is your skill and imagination that will enable your photos to be successful. Because of that, I can only give you a guide based on the mainstream fundamentals of air show photography and what type of equipment seems to work.
Your best bet for a successful system would be a camera with detachable lenses known as an SLR (Single Lens Reflex). This will enable you to see exactly what the camera sees including the ability to check focus and composition. The most notable benefit to SLR's are the plethora of lenses available providing an enormous focal range. In that focal range, you could include wide-angle lenses starting around 17mm all the way up to telephotos in excess of 400mm. The two most common lenses carried are the wide-angle to medium range zoom of around 24-80mm and the telephoto zoom lenses ranging from 75-300mm.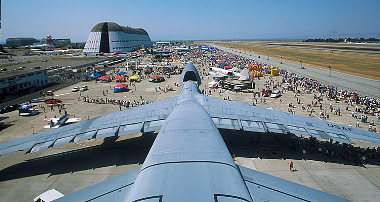 For creating interesting effects of static aircraft, you could try fisheye lenses ranging from 8mm to 15mm. Or perhaps if you want to include a large area or an entire aircraft without too much distortion, Canon and Nikon (as well as many aftermarket brands) make lenses in the 17-35mm range.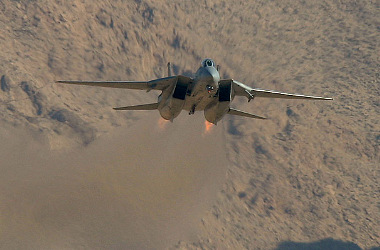 When it comes to telephoto lenses, things get a little more complicated and if you let them, a bit more expensive. Although a zoom lens of 75-300mm will work well on just about all applications, with an aperture of F/5.6 or higher, some may find it a little restrictive. A practice, which is becoming more common, is to carry an additional fixed length telephoto lens with a range of 300mm or 400mm and an aperture of F/4. Not only are you able to use a full shutter speed or film speed faster with the lens by itself, but you also have the capability of adding a 1.4x teleconverter, which would change the 300mm F/4 to a 420mm F5.6 or the 400mm F/4 to a 560mm F5.6.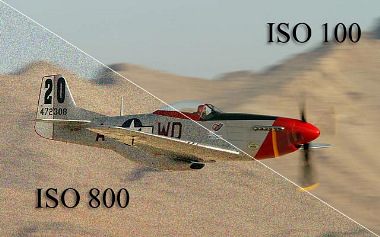 The resulting aperture and weather conditions play a big factor in your film of choice. If you have a fairly small aperture such as F/5.6 or F/8 or the weather isn't exactly great, you may want to use a film speed of ISO 200 or 400 in order to increase your shutter speeds and stop the action. Unfortunately, the higher the film speed, the more noticeable film grain becomes. Many photographers will shoot ISO 100 film to achieve the sharpest possible images. If you are familiar enough with your camera manually adjust your film speed to ISO 100 and take a meter reading of the approximate area in which you will be photographing. If the shutter speed is higher than the focal length of the lens, ISO 100 will work perfectly. If the focal length is lower, i.e.; shutter speed = 1/250 sec. and focal length = 400mm, use a film speed of ISO 200 to raise your shutter speed to 1/500 sec. resulting in a shutter speed more than the focal length.
Page: 1 | 2 | 3 | 4 | 5 | next>

---
About the Author:
Tyson Rininger is a professional photographer based in Central California. Mr. Rininger began photographing when he was just 12 years of age. Since he received his first camera, Mr. Rininger has been chasing action all of his life. Everything from spectacular lightning photographs, to auto racing and of course, air shows are included in his superb portfolio. Mr. Rininger's online photographic galleries can be seen at:
Profotos.com
www.tvrphotography.com