Quivira National Wildlife Refuge is not only centrally located in the United States, but also centrally and strategically located in the Central Flyway for migratory birds. Throughout any given year hundreds of species of shorebirds, songbirds, waterfowl and other visiting or migratory birds pass through the richly bio-diverse landscape, or even call it home for a while.
Many years ago, Quivira was primarily privately owned marshland that was too wet to farm most years but a real haven for sportsmen and many hunting clubs. There are still a few sportsmen leases on land adjacent to the refuge and public hunting is allowed on some areas of the refuge. Waterfowl flock into Quivira by the hundreds of thousands with the onset of winter. In the late fall, while shorebirds still congregate, feeding before their southward journeys, the Sand Hill Cranes and majestic and exceedingly rare Whooping Cranes make their respective appearances. The Whooping Cranes usually come through in different small groups and depending on the weather and wind directions, may stay only a day or two, or linger much longer.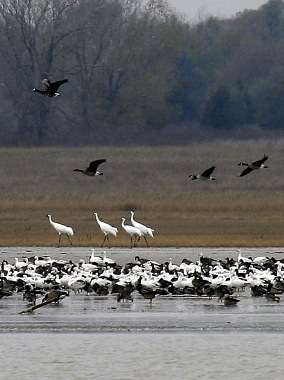 In addition to the many species of birds attracted by all the water and marshes, the areas sand prairie habitat is home to myriad other creatures. Amphibians, reptiles, mammal both large and small, abound in this area that they call home. Raptors of all types ply the skies looking for their next meal. Many good eagle and hawk viewing opportunities present themselves to the always ready photographer. Deer, often including a good number of protected (while on the refuge) trophy bucks, display themselves freely before your lens. Pheasant, Bobwhite quail, coyotes, bobcats, the list is quite diverse and quite long.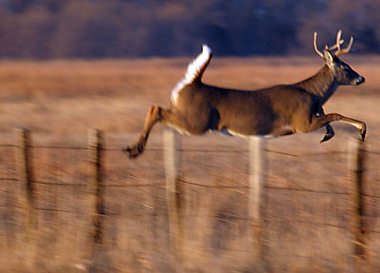 Quivira National Wildlife Refuge is well managed and well maintained by a competent federal staff and a network of dedicated volunteers. A "Friends of Quivira" group also exists which provides volunteers and hosts special activities for nature lovers, birders, etc. Recently, a Kid's Fishing Pond, stocked with some really nice fish was constructed and opened near the headquarters. There are several all weather and 2-3 county blacktops that traverse the boundaries of the refuge. Access from all directions is easy. People from all over the nation and even a few international visitors make their way to Quivira National Wildlife Refuge every year.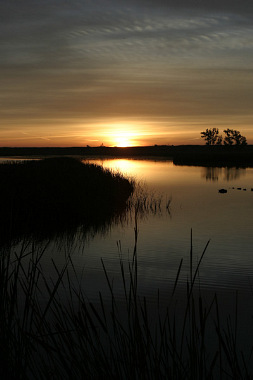 The Wildlife Drive in the northwest area of the refuge is a very popular destination for birders and photographers, although plenty of opportunities for both exist throughout the refuge and along some of the county roads bordering it. Many Bald Eagles and numerous other raptors are fall and winter residents which follow ducks around or hunt above the prairie.
At any given time of the year, numerous species of birds and many other animals can be readily spotted. Many areas of Quivira are open to walking in and viewing; although some refuge areas are closed to all public activity, but are readily identified by signs stating this. With nearly 29,000 acres of wildlife area, there's something for almost every outdoor and wildlife enthusiast.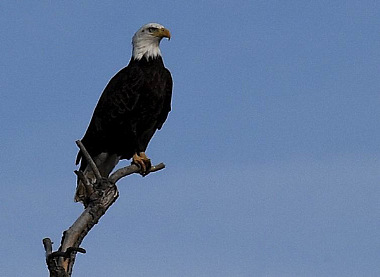 When visiting Quivira National Wildlife Refuge, plan on spending a minimum of most of a full day and up to several days, depending on time of year, your available time and your activities. The refuge is easy to find and reach from both Hutchinson and Great Bend, KS. The headquarters is just over one mile north of the paved 4th Street Road which runs west from Hutchinson, KS, all the way to U.S. Highway 281 which comes south of Great Bend. Lodging is available in these cities as well as a motel near St. John, one in Stafford, and 3-4 B&Bs in Stafford.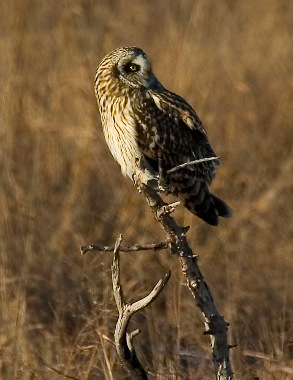 When visiting Quivira, remember, your best blind for wildlife viewing and photography is your vehicle. Bring the longest zoom lens you own as well as a shorter one for scenic and landscapes. Some of the sunrises and sunsets over the marsh and/or sand prairie are fabulous. Also, don't forget binoculars, or a spotting scope for scanning the countryside for birds and critters. If you're planning on spending some time, don't forget some food and plenty of water to drink. The wind coming off the water can be quite cool, even on a 75 degree afternoon, so pack a light jacket. During the winter, dress for a possibly very cold, icy, windy prairie.
Reptiles abound at Quivira National Wildlife Refuge. Included in the long list of snakes is the Western Massasauga Rattlesnake. One of the major creeks that empty into the refuge is Rattlesnake Creek, so while the rattlesnakes are not crawling everywhere, it is prudent to be cautious and not go plunging through thick grass wearing merely sandals, etc. Shorts and sandals, or low cut tennis type shoes should stay on the roadways or mowed trails where you can see what's around you. If you plan to trek off the beaten paths, wear pants and boots.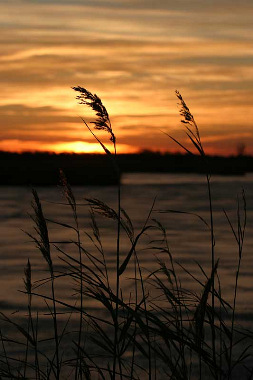 Bring plenty of film/memory cards; take plenty of photos and memories. You should plan on hundreds of photos. The National Wildlife Refuges scattered throughout our great country are some of our national treasures, so let's get out and enjoy them!

---
About the Author: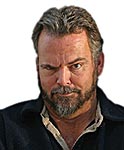 Jerry Segraves of Jerry's Photo & Imaging has been shooting photos for over 30 years. Recently, he has decided to go pro and is currently building a studio for portraiture photography as well as still spending much time in the outdoors photographing all aspects of nature, wildlife and scenic/landscapes.
Mr. Seagraves uses a Canon EOS 10D with a selection of lenses almost exclusively and plans on purchasing a new EOS 1Ds in the near future.
Mr. Seagraves has been published in numerous magazines and newspapers, including; Western & Eastern Treasures, Kansas Wildlife, Lost Treasure Magazine, The Hutchinson News, The Corpus Christi Caller Times, and is currently working with Windigo Images to produce some outstanding hunting and fishing stock photos for their repository.
Mr. Seagraves' online photographic galleries can be seen at: