Bali Is Known As A Magical Place
Java Is Just As Enchanting

Article and Photography by Peter Wallack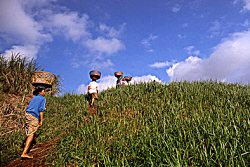 If there were anywhere I would choose to live for a time besides these United States, France or Italy, it would have to be in Indonesia. Yes. Indonesia is a third world country but there is an incredible charm, grace, aesthetic order to humble material achievement; warmth, welcome, and cooperation are the way people act towards one another and towards me; every job that is done, from the weeding of rice fields to the fine artistic dancing of the Bali Royal Ballet Ramayana Dance is measured slow and eye riveting graceful movements.
Indonesia is where the heat humidity index goes off the chart, but I loved every moment I spent in Bali and Java. Sulawesi with its very different culture and lavish long houses built to look like boats, is an island I have yet to see. Kalimantan, the Indonesia section ofBorneo, with its Organatangs is also on my short list of places to see. I just hope the new democratic government of Indonesia is not selling all of its timber from Kalimantan to Japan to increase their own personal wealth as the old government did. For seeing the death of cultures like the Dayak would be too painful to witness.
Indonesia is like a world within a world; there are hundreds of different cultures and languages through the 3600 miles expanse of these archipelagos but the island of Java, the size of California, having half the people, 100 million people, and with three related languages, may help glue Indonesia together for surely there will be much bloodshed if places seek to secede from their union. It is only fair that I mention the horror of East Timor in 2000 along with the beauty I saw elsewhere.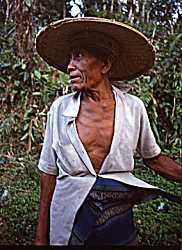 Everyone I met in Bali was involved in the Arts in one way or another even if most were humble farmers who worked terraced rice fields on the mountainous terrain that dominates the places of good soil both in Bali and Java. Farmers would make wooden carvings and oil paintings, among many arts and crafts, and as I trekked 12 miles away from any town, but near villages with extended family compounds, people would come out to sell me jewelry boxes with fine carvings and paintings of their wonderfully lush world. I bought and I bought since you cannot resist the art and the memories of the wonderful moments all day long there which these objects still hold for me a decade after my visit.
The Sobuk is the organization of families that share one side of a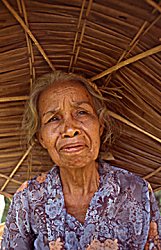 mountain in their cooperative terrace farming. If the walls are not constantly firmed up and the water flow ways for the daily rains of this rain forest are not what they should be, many will suffer. The top terraces could get too much water and drown or too little waterand not grow, but generally gravity keeps the upper terraces healthy even if the walls and water flows are off. It is the lower terraces that are more prown to drown or whither, and it is for this reason that the President of the Sobuk always is the holder of the lower terrace shares while he holds his tenure in office. The powerful are the most vulnerable if they do not complete their charge; I wish I could figure out how our system could have such poetic justice built into its design.
Enough said of what an academic learned. Let us turn to what I saw and photographed.
The women washing clothes in the stream is using a little cement pool the stream feeds but which is kept in that pool. Yes, that allows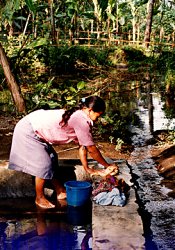 the very nicely dressed lady in the lovely washing garden stream to use Wisk of Cheer. I saw no one in Bali or Java who looked very dirty even when working in the fields. They seem to control slow movements in this environment almost too hot for work and in doing that their coordination keeps them clean. In any case, some of these people must have gotten dirty when I was not looking, or at least a little sweaty or why the washing out of doors. Clothes are washed early in the day and dry out in the midday sun before the late afternoon showers come. The site of vegetable dyed clothes and batik skirts on lines reminded me of how the Buddhist Tibetans place their holy flags up in the Himalayans.
Sometimes it rains just at the rise of the sun and there are dark shadows and cloud reflections in the rice paddies where the sun is breaking through.
An hour later, still early morning, the sky is mostly sun with nice white puffy clouds and farmers are out in the rice paddies.
Away from the little villages, which have their own governance, including several Sobuks, we find school children in uniforms on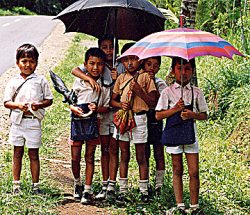 their way to and from schools with their ever-present umbrellas. The children of the most humble families all had manufactured clothes in good shape; lovely book bags made of material, and manufactured footwear.
Women go to town once or twice a week to sell garden vegetable goods to towns' people. With this money they buy the few manufactured goods that are absolutely essential like school clothes, medicines, flashlights, umbrellas, and hand farm tools. You can see their comings and goings with batik skirts, batik blouses or solids, sandals, and, of course, their baskets of produce balanced on their heads.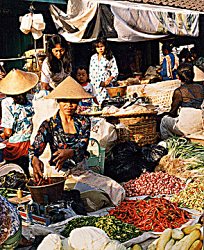 In Java sits one of the wonders of the modern world, Borobudur. It is the highest Buddhist monument in the world even out competing 350 foot Buddhas carved into the sides of mountains in China and Southeast Asia. Borobudur is 5 stories of succeeding smaller square floor plans terraced back; it includes statues, universal symbol shapes, and over one hundred 14 foot wide by 5 feet high relief depictions of the life of Buddha.
My other images here include a Javanese farmer dredging out the soft bottom of a rice paddy to create walls to hold in the correct height of water for his strain of rice. By the way, there are over 600 rice plants in the world each with their own soil and water height requirements. The tool he is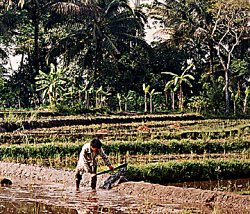 using was forged of steel in one of many small factories that make hand tools in Indonesia. With Japan investing in Indonesia because the people are literate, healthy and diligent workers, Indonesia is now producing many more technological products.
Javanese farming women sell their vegetables in nearby Yogyakarta, which is just one hour from Borobudur. Their grace, strong but thin stature, and lovely smiles made me realize what we in the United States have given up all too often as we need do very little physical work while we eat the best foods from our own country and all over the world.
Gamelan Music is used to accompany dance and puppet shows. The dances have either a traditional, royal, or religious significance. The wooden puppet shows, Wayang Gullet, and the leather shadow puppet shows, Wayang Kullet, tell the stories from the Ramayana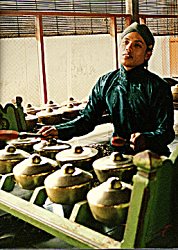 and Mahabrata, which are Hindu moral bible-type stories to teach good and evil. However, the only Hindus in Indonesia are the Balinese but the majority which is Islamic in name seems to have influences of Buddhism from the Chinese Colonial period and Hinduism from the Indian Colonial period as well as their Islamic traditions from their continuing Islamic Colonial period
Gamelan Music uses brass and wooden percussion instruments like a xylophone and the sounds they make sound like waterfalls. Perhaps this is the result of combining several cultural musical backgrounds.
The Hindus of Bali have outdoor Temple compounds made up of many small and medium sized temples, which are, really alters to their Gods.
One of my all time favorite images is of a mother, in a small village near one of Java's Volcanoes, whose flow is controlled by cement flow dams made with hand tools and a cement mixer, feeding a baby using a palm leaf as a plate and a part of that leaf as a spoon.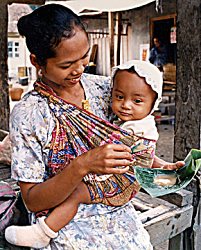 The smiles on their faces and their lovely peacefulness seem to best represent the aspect of my experience there. The old women with enough poise and presence to look at me right through the camera also showed me a strength of personality which only comes to those who have worked hard and long at a simple but labor intensive live.
I was very lucky to actually show up at the village of Sabatu in Bali where the old man praying in the Hindu temple, already mentioned was taken, and where at the end of the day adult young men on a sand square performed a very wonderful dance; the sand on which the dance was performed was as clean as an oriental carpet.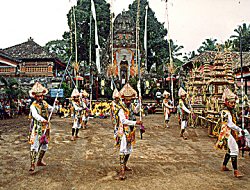 If all this has made a less advanced people on the technical scale seem to have some attributes more advanced than ours than I have completed my mission. Look and study other cultures for there are ideas of the good life, not our own, that are there as well as here.
---
About the Author: Peter started taking photographs for academic slide shows in the early 70s and ended up in Soho Photo Gallery by the late 70s. Cooperative Galleries and Art Shows were his forums for landscapes with man, landscapes, and world cultures images. By the 90s so much of his work was world cultures in developing lands that he called his business "Ends of The Earth Photography". In 1999, after contracting to buy his retirement house in Sanibel Island, Florida, a paradise for bird photographers, he transformed himself into a bird photography with a little help from other professional bird photographers.
Peter will have his writings and images in Nature Photographer, Winter 2002, and regularly in Sanibel's Nature Guide.
---
You can see more of Peter's work in his Profotos Portfolio:
Click to see Peter's Profotos Portfolio