African Photo Safari - Wild Dogs

by Nigel and Wendy Dennis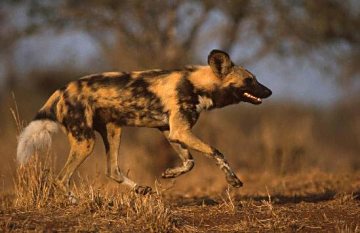 Any wild dog sighting invariably causes enormous excitement among the Dennis's. Apart from their great rarity, wild dogs make incredible photo subjects. They are such busy creatures, and this means action and behavioural opportunities come thick and fast. Fortunately there is no need to go trecking all over Africa to photograph wild dog, as our own Kruger National Park has a very viable population.
Wendy and I spent the best part of last winter in Kruger - close on five months in all. We saw wild dogs in the South - plenty in fact. We saw wild dogs in Central Kruger, and we saw them in the North of the Park as well. On occasions we would spot a wild dog two or three days in a row - and different packs too. When you consider that there is a total of less than 400 of these highly endangered animals in the vastness of this National Park, this is rather remarkable. I can only put the frequency of sightings down to the dog's preference for hunting along roads, and their great passion for wandering.
As a rule though, because wild dogs have such a huge home range, it is usually impossible to say for sure "I am going to go out and get some pictures of wild dogs today". All you can do is keep driving and hope to get lucky. The only exception is when the wild dogs den in the winter months. The young puppies are not strong enough to join the hunting expeditions, so this greatly restricts the adult's wanderings. Last year one of the den sites was situated quite close to the main tar road between Lower Sabie and Crocodile Bridge. Although the den itself was not visible from the road, the adults spent a great deal of time sitting right next to the road. It is difficult to account for this behaviour - it almost seemed as if they enjoyed all the admiring looks from passing tourists! The dogs also had the rather annoying habit of sitting on the tar road, which is not much good for photography! The picture of the two dogs play-fighting in this feature was in fact taken right in the middle of the road. I had to frame tight to avoid getting very unnatural looking tarmac in the picture!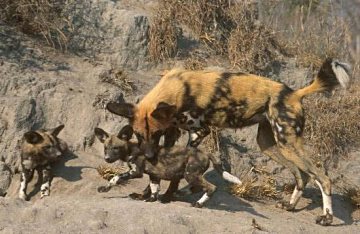 As our long stay in Kruger last year was for a new book on this Park, we were very fortunate to get special permission to visit this den. I believe that photographing at an animal's den site is much like taking pictures of nesting birds. It needs to be done with great care - if at all. I checked with the South African National Parks staff who had been monitoring the den. It appeared that the wild dogs were relaxed and had taken no notice of the researcher's vehicle. Even so we opted to park a fair distance from the den and shoot with a 600mm lens just to be sure. We need hardly have worried. As soon as we had parked and set up our big lenses, a couple of the adults came trotting over and sat right next to our vehicle. So the 600mm was rapidly hauled in and replaced with a 70 - 200mm zoom!
We had the privilege of visiting the den four days in a row. Of course with many young puppies resident the adults were sure to appear sooner or later. It was the one rare occasion when we could say for certain that we are "going to the dogs"! The opportunities for action photography were excellent. Upon arrival at the den the adults back from a hunt would regurgitate food for the pups - as well as for the adults left behind to take care of the youngsters. After feeding the alpha female would call her pups from the den to suckle. It was a big litter - we counted about fifteen of the little black puppies. Clearly feeding so many hungry youngsters was quite a strain and we thought the poor girl looked very tired!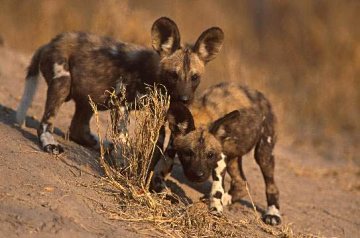 Wild dogs occasionally also den in roadside culverts, so when you next visit the Kruger Park it is worth making enquiries. I photographed at such a den in the Pretoruiskop area a few years ago. The roadside den caused a great deal of interest among visitors, resulting in traffic jams that would put even a lion sighting to shame! At times it was difficult to get into a good position for photography, and once I got in the right spot I found it wise to stay put - before another vehicle pushed in to get a closer look. The roadside culverts in Kruger are more frequently used as den sites by spotted hyena. When the adults as well as youngsters are present, these hyena dens can also provide some fascinating viewing and photography.
Photo Tip - Panning for Action
There is no doubt that action photography has become vastly easier since the introduction of auto-focus. Like many new innovations there was initial criticism that auto-focus would make photography "too easy" and "take all the skill out of photography". I don't think so! Just try panning with a fast and erratically moving subject - tremendous co-ordination and anticipation skills are required. If the auto-focus sensing area in the camera strays off the subject for a split second, then focus tracking - and probably the shot - is lost. When shooting action few if any of the pan tilt or ball and socket tripod heads, normally used in stills photography, are smooth enough for the job. Just a hint of jerkiness and it is impossible to pan accurately. For more than ten years I have used a fluid action video head. The model I use - in fact I have four of them right now - is the Manfrotto 136. Unlike many camera accessories, it is not an expensive piece of equipment. However it does allow the camera to glide with the subject, and has helped me to obtain many action images that would have otherwise been impossible.
---
About the Author:
Born in England in 1953, Nigel Dennis developed a deep interest in the natural world from an early age. First finding expression in the form of painting nature subjects, he also became interested in photography just over twenty years ago. Living in England at the time, his first projects included photographing red deer and the shy nocturnal European badger. For the badger photography he spent over forty nights photographing whilst still managing to hold down a busy day job. Nature photography soon overtook painting as a means of expressing his passion for the natural world and from the early eighties his work began to be published in books and magazines.
He moved to Africa in 1985 with a view to making wildlife photography a full time profession. During his first few years in Africa he continued with his previous career in sales and marketing, but still spent about one hundred days a year photographing by utilising all his annual holidays and weekends. Eventually having built up a sufficient stock of wildlife images he launched into the rather precarious occupation of freelance wildlife photographer in 1991. Since then he and his wife Wendy camp in the African bush for up to nine months each year. Although they work mainly in South Africa they also photograph regularly in Namibia and have visited Botswana, Zimbabwe, Zambia and Madagascar.
Nigel Dennis photographs all natural subjects including reptiles, insects, flora and landscapes but tends to concentrate primarily on African animals and birds. His work is marketed by fifteen stock photo agencies and has been published world-wide in over twenty five countries. He also runs his own photo library supplying images to the publishing and advertising industries, and currently has over 40,000 transparencies on file. He does not take on commercial or advertising assignments and works primarily on book and magazine projects. Nigel Dennis has had twelve wildlife coffee table books published to date.
---
You can see more of Nigel's work at the following websites:

Profotos - Nigel Dennis
Nigeldennis.com