Winter Photography Primer - Part 2

by Les Voorhis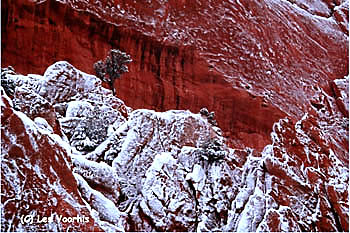 Winter is a magical wonderful season, full of opportunities for the outdoor photographer. In the last part of this article we looked at the different methods to keep ourselves warm and dry and our camera equipment functioning. Now lets look at the photo opportunities that are unique to the winter season and the best ways to utilize what we encounter to our advantage.
Probably the most intimidating part of wintertime photography is obtaining proper exposures in the vast expanses of white. Snow can make winter shooting unique but also frustrating. As we all know, our camera meter attempts to make whatever fills the frame a neutral or 18% gray. If we shoot at this suggested reading we run the risk of the camera closing down the exposure and making the snow darker than necessary, or in essence 18% gray. By adjusting the exposure open by 1 ½ to 2 stops (add light) we fool the meter and expose the snow properly. This sounds pretty straightforward but becomes a little more complicated with different lighting conditions or when there is detail in the snow that we are trying to use as part of our image.
My favorite technique is to use my cameras built in spot meter and meter the snow where I want show detail and open up by 1 to 1 ½ stops. This will enable you to retain the snow detail but still make it bright and white. If there is little important detail in the snow, an adjusted exposure of 1 1/2 to 2 stops will usually yield the best image. One little trick I have learned is to adjust the exposure not only for the brightness of the snow but also depending on the lighting conditions. In heavy overcast or low light scenes you need to add at least a half of stop to your exposure in order to maintain the bright white look of the snow. In sunny or bright overcast conditions I usually detract a half of a stop in order to keep the snow from being overexposed due to the extra light bouncing off of the white snow. For example, in overcast conditions I will typically adjust my spot meter reading +1 ½ to 2 stops knowing that it will be difficult to retain much detail. In sunny situations I will open 1 to 1 ½ stops to avoid the washed out look. The brighter the conditions, the more capable you are of retaining detail in the snow.
One of the techniques we are all taught when learning photography is to seek out and expose off of a medium toned subject. Another trick I have learned is that a shadow cast in bright conditions can closely replicate the medium tone we all seek. Using this, I typically will shoot at the measured shadow exposure if I need little detail or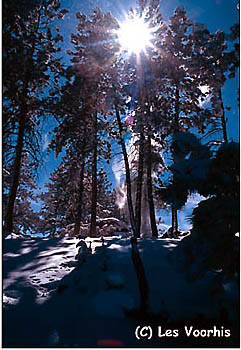 subtract half of a stop if I need more detail in the snow. Check this out and I think you will find this closely resembles the adjustment exposures we talked about above.
If you have an incident light meter it also can be a great tool for snowy conditions. Keep the meter in the same light as the subject and add and subtract light from the suggested reading to find what works best for you. The best method to learning winter time exposure is to bracket and take notes that you can later compare to the exposed film.
Many subjects are available to the winter photographer including using the snow itself as a subject or as an addition to a larger scenic. Wind blown snow expanses themselves can create many unique and interesting patterns making great foregrounds for grand scenics as well as interesting close-up subjects. A graduated neutral density filter can be a great asset for these situations, allowing you to hold back the brighter sky in overcast or early morning shoots. You can even use it reversed over the foreground on brighter scenes in order to pick up the maximum amount of detail in the foreground snow.
Many details become evident during the winter often not seen during other times of the year. Stands of Ponderosa Pine or Spruce trees can transform into interesting and unique patterns as well as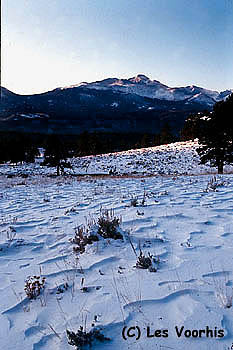 providing great close-ups of the snow clinging to the needles. Aspen groves back-lit by the sun throw wonderful shadows on the brighter snow and showing the sun breaking past a trunk can add a sparkle to an otherwise bland image. Using the sun in the frame is an excellent technique during the winter as the brighter snow can add light back into the darker exposure needed to properly expose the sun. With a small aperture and a wide-angle lens, you can break the sun into rays to create even more interest.
Depending on the part of the country you live in, finding a day with bright sunshine can be difficult. Use this to your advantage. Overcast scenes can appear more peaceful and be a great setting for that red barn down the road or the family of deer in the local wood lot. Being out while it is snowing can add an extra spark to your images especially if you use a high enough shutter speed to freeze the flakes in mid air. Adding a little fill flash can create some interesting effects and setting your flash to about -1 1/3 to -1 2/3 is a good place to start.
If you find yourself out during a snowfall, be sure to protect your camera from the falling flakes. This can be as simple as carrying a large trash bag with a hole in it for the lens all the way up to custom made neoprene covers. Many photographers carry an inexpensive rain poncho with them for just such emergencies and may be the best all around choice for the balance of cost and effectiveness. Finding a method that works for you can allow you to stay out longer and obtain images that can be obtained no other way.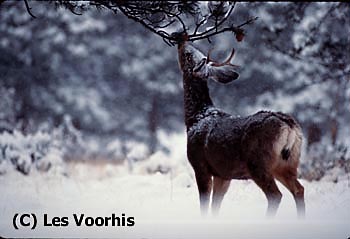 This is intended as a guide to get you started on your winter adventures and I encourage you to experiment to find what works best for you. Regardless of the techniques you use, stay warm and dry, well hydrated and keep your gear protected from the elements and winter may well become your favorite time of the year.

---
About the Author: Les is a professional nature/wildlife photographer based in Lakewood, CO. An avid outdoorsman, Les has photographed our nation's back roads extensively with heavy concentration in the Rocky Mountain west. He often heads off the beaten path to areas rarely traveled by others. His affinity for all things wild and unspoiled has allowed him to find and capture magnificent images on film. From the wilds of Alaska to the busy roadways of Rocky Mountain National Park, he has successfully photographed some of the United States' most prolific and sometimes elusive wildlife. Elk, Mule Deer, Bald Eagles, and Mountain Goats are favorite subjects. In the silence of the predawn hours, he forms a magical unspoken bond with his subject. That magic is then transferred to film. His exceptional eye for dramatic light is apparent from his majestic mountain scenes to his delicately detailed macro work. Les offers photography seminars in the Denver area. He is actively shooting to add to his extensive stock photography file. Les' images can be seen regularly in national and regional publications including Rocky Mountain Game and Fish and Colorado Outdoors, Bugle Magazine and American Hunter. A selection of his fine art prints is currently being showcased in Colorado galleries and gift shops.

---
You can see more of Les's work at the following websites:

Profotos - Les Voorhis
voorhisphoto.com