I Was a Photo Workshop Junkie
(by Gale Perry)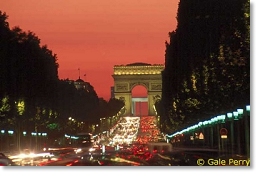 Years ago, before becoming a professional, I was an enthusiastic amateur photographer anxious to learn more, to improve my technique, and to find out how to take those outstanding shots I saw in magazines. I'd taken many courses over the years and came away frustrated, since the classes were always too large, I never received the individual attention that I desired, and my skills did not improve. I dreamed of hiring a photographer for a day but couldn't find one that was willing to accommodate me, or one that I could afford. I loved to travel to new places but always had difficulty finding travel companions who loved to take pictures as much as I did.
Sound familiar? That pretty much summed up my predicament. My main purpose in traveling is to shoot pictures, pure and simple. It is not however, why other people travel if they do not share a love for photography. Their agenda usually does not consist of waking up before dawn in a foreign country and shooting for a few hours before the first coffee and croissant. When I travel with a non-shooter I am constantly frustrated since I cannot shoot to my heart's content or if I can, then they are terribly bored.
My previous solution to this predicament was to travel alone, but then we're back to the same old issue of taking pictures in the same old way and not learning new skills, plus driving a car, navigating and finding places to stay.
Some years ago, while contemplating where to vacation in Europe alone, I happened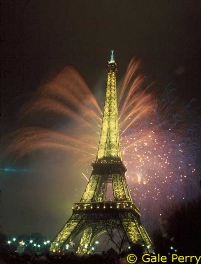 to read an article about a photography workshop in France. It described ten glorious days shooting chateaux, vineyards, coastal villages, staying in 3&4 star hotels and gourmet dining. "Now," I thought, "This is my kind of vacation!" Having an instructor to answer my questions and like-minded photographers to travel with were an added bonus. A photography workshop! Why had I never thought of this before?
I called the number to get a brochure and after the photographer described the trip, I quickly signed up. Although I had never before entertained the idea of group travel, the fact that we were like minded people with the same agenda made it sound more palatable. Plus, the itinerary and diverse locales sounded spectacular.
Preceding the trip, I received a complete booklet of photographic "how to" articles and a thorough list of suggested equipment and film to bring along. A personal survey form was included to find out more about me, the type equipment I owned, plus a detailed itinerary.
Arriving in Paris, we left for the French countryside transported by a very comfortable 18-passenger bus hauling a luggage trailer. Our bus driver was a most agreeable fellow with endless enthusiasm. Not only did he have a keen eye for photo locales but also a wonderful sense of humor that kept us all entertained. We drove to the most scenic locales and often stopped whenever some bucolic splendor caught our eye. We stayed in wonderful hotels and night we sampled French cuisine at it's finest. The only decision I had to make each day was what I wished for lunch and which pictures I wished to shoot. Plus, I made some great new friends.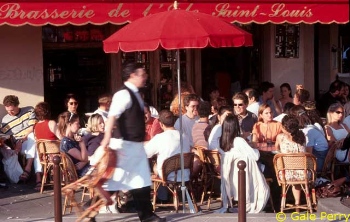 Our instructor had a teaching background as well as being a superb photographer. She devoted all of her inexhaustible energy into making us better photographers in addition to ensuring that we had a thoroughly enjoyable experience. I was finally receiving all the instruction I had always desired. I learned how to use filters and improve a boring sky. She taught me depth of field and how to get the foreground in focus, how to stack an image, low light metering and creative blur, just to name a few. Plus, I learned from the successes and mistakes of my fellow students. My eyes were opened, as they had never been before.

Back home, I beamed with delight as I viewed my slides. They were good, better than I had ever taken. I had progressed by leaps and bounds. I also secretly wanted her life. After that trip, you might say that I turned into a workshop junkie since I took more than a dozen or more workshops in the U.S. and Europe. What I learned is that there is great diversity in the quality of workshops being offered. Some are good, some not so good, and some are just plain awful. They ranged from "sit and stare" seminars in dark rooms to tours with a big name pro who spends a half hour in the field with you and then is off to shoot his own photos to add to his stock library. How much can you learn if they have their nose behind their lens the whole time?
After a lot of research and seeing what worked and didn't work, I eventually decided to start my own photo tour business. It combines my love for teaching, travel, meeting new people and of course photography.
The photo workshop business is very competitive and it helps to do your homework first when considering a workshop. The size of the group is critical since that impacts the time the instructor spends with you on an individual basis. It's also much easier to round up 12 people scattered around a village, than it is 18 or 75, and get them on and off a bus!
I have compiled a list of questions that you might ask before you spend your hard-earned dollars.
How large is the group and is that number guaranteed?
Does the photographer shoot while instructing?
If a big name pro is featured, do they instruct?
Are assistants used for instruction?
What is the background of the instructor?
What is included in the price?
If transportation is provided, how large is the vehicle?
If accommodations are provided, what is the quality of the hotel?
Will I be sharing a room if traveling solo?
What is included in the price?
Is there a detailed itinerary provided?
Are there any handouts provided before the tour?
Is there any information provided about the places you are visiting?
Is there a cancellation policy if they do not get enough attendees?
How many hours per day are spent in the field?
Will there be any "classroom" instruction in the evenings?
Will there be an opportunity to get film developed?
Will there be a critique of current and prior work?
Is there any follow up critique offered?
Will there be a BI-lingual guide?
I know of no better way than a photography workshop for a keen amateur photographer to improve their technique, learn new skills and be exposed to such a variety of interesting subjects to shoot, while at the same time having fun with like-minded people.
Click Here to Enter: Photo Workshop Gallery
---
About the Author: Instructor Gale Perry, an award winning freelance travel and stock photographer, has been published both in the U.S. and abroad in magazines such as Outdoor Photographer, Photo Technique, Travelocity, France Today, Acadia Vacation Guide, Petersen's Photographic and others. Her photographs, including hand tinted black and white landscapes and portraits, have been exhibited at Christie's London and are in numerous private collections worldwide. Gale lives in scenic Northern California.

You can see more of Gale's work at the following locations:
Click to see Gale's Profotos Portfolio
Click to see Gale Perry's website - Light Fantastic Photo Tours