The Secrets of Zanzibar
(by Steve Outram)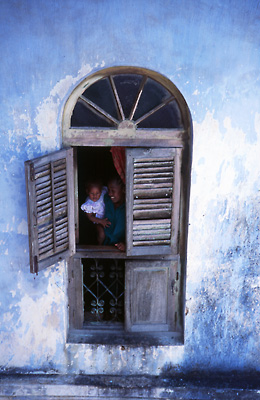 What is it about Zanzibar? What makes it so exotic to people who have never been there and hardly know where it is? It is one of those magical African names like Timbuktu and Casablanca.
In history books and novels this Indian Ocean Island is full of mystery, a land of slaves and spices, a tropical idyll of bleached white beaches with palm trees leaning languidly in the warm ocean breeze.
It has indeed a long and colourful past. Traders plying in their dhows, first stopped off there some 3000 years ago. Much later came the conquering Portuguese and then the Omani Sultans, who ruled Zanzibar from the early 1800's and presided over the shame of the slave trade. Livingstone, Stanley, Speke and Burton and other intrepid 19th Century explorers of the African interior set out with their caravans from Zanzibar, some of them never to return.
The last of the Omani Sultans fled just after independence in 1963, and Zanzibar united with mainland Tanganyika to become the independent African State of Tanzania.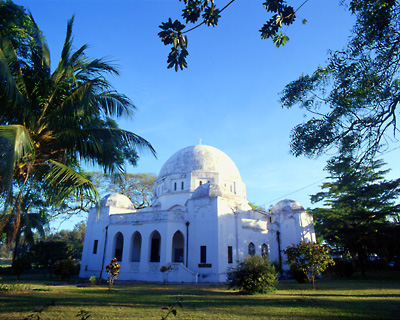 My first visit there was in September 1999, and I was enthralled and visually stimulated with the photographic opportunities everywhere I went. Of course, first impressions are very important. A beaming smile from the young taxi driver at Zanzibar Airport and the greeting of "Jambo" (Swahili for hello) Mind you, the journey to Stone Town started well, as the old Chevrolet Impala wouldn't start! I'm certain that in this part of the world, spare parts are hard to come by. I was headed for Emerson's and Greens, on Hurumzi Street. Newly developed from a beautiful old Zanzibari four story hotel, it is full of the atmosphere of opulence, with a mixture of Arab and Indian influences, and huge high ceiling rooms, complete with roof beams of Burmese teak. The Ballroom Suite, with it's four poster bed, pillars, and sumptuous décor is amazing, while the smaller Lavender Room, is more intimate, and ideal for lovers. The bathrooms have tiled stone tubs made of dozens of coloured glass panes.
Dinner at the rooftop restaurant is an experience not to be missed, where you eat a multi course dinner, sitting crossed legged on cushions and enjoy great views and sunset. Also, you can listen to traditional Kidumbak and Tarab music at the weekends.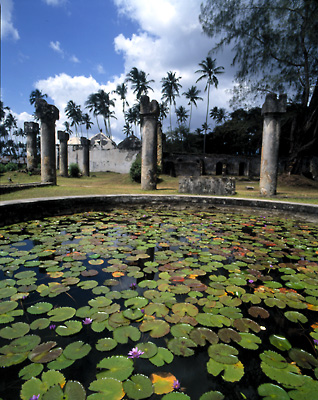 Stone Town is the only "town" on the Island, and was built by Arab and Indian traders in the 18th and 19th centuries. It will delight the traveller with it's magical alleyways, minarets and mansions, bell towers, latticed balconies and breathtakingly magnificent carved doors. Old, bearded men, pass you, wearing long white robes, whilst others just stare at you from the shadows. Women, wrap their flowing black bui bui around bright dresses, perhaps on their way to the many little shops, selling food, clothes, hardware, electrical goods, and even Internet access.
The 200-year-old streets, are too narrow for cars, and bicycle bells sound out their vibrant warnings, as they, and scooters, pass you. Sooner or later, you'll discover Mosques, Persian Hammamni Baths, Churches and small hole in the wall tailors shops and eating-places. And, it's guaranteed that you will get lost, so a small compass is handy to head westwards to the sea front, perhaps for a break and meal of fresh Barracuda at Blues Restaurant, opposite the Jamituri Gardens, where in the evening there are dozens of lantern lit vendors, selling cheap street food, such as grilled octopus served on a square of newspaper.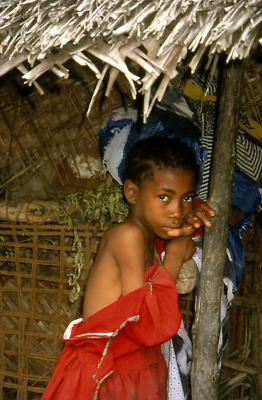 Plus, keep a look out for POPO BAWA! Of all the ghosts and demons who inhabit the tangled, centuries old alleyways, none has caused so much dread as Pop Bawa. Popo Bawa (Bat's Wing in Swahili) is a bat-man, along the lines of Dracula, but with even more base habits-he sodomises his victims, man, woman, child or dog. He began his reign of terror in 1995. When darkness fell he would fly into houses and rape the inhabitants. No use shutting doors or sealing windows, Popo Bawa always found a way in. His victims told the tabloid Uhuru of a bad smell that preceded him, then of slipping into a coma-like state. Only when morning came did they wake and realise what had happened. Many victims said they began to smell themselves, and no washing or soap would relieve the odour.
And Zanzibar is ghost friendly. The tangled, dark side streets in Stone Town are made for haunting. And the lush interior of the Island- the strangler figs and vines, man- high grass, banana trees, mango trees, clove trees, cashew - nut trees, rustling palms, bush so thick and teeming you need a machete to move a hundred yards- surely provides demons with hide-outs.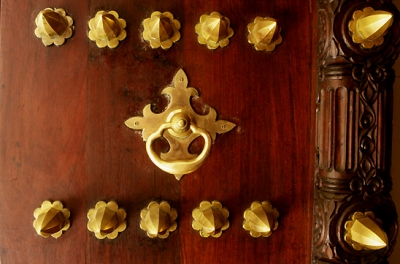 Well, after enjoying the unique sights and sounds of Stone Town for 3 days, it was time to explore the rest of Unguja, to give it it's correct local name, with my guide and host, Salim Abdullah, whom I had contacted prior to my visit by e mail. This is an ideal place to travel simply for it's own sake; to wander slowly among plantations and farmland, or pass through small towns and fishing villages. Once you move away from the somewhat "touristy" parts of the island, you will find a very different, and more authentic world, where local people continue with their everyday lives in a manner which has changed little over hundreds of years. It is refreshing to see this other side of Zanzibar. This is a very important aspect of my Photo Tour, but I don't want people regarding the Island as some kind of rural paradise created for tourists to admire. For local people, this island is home, where the work in the fields or on the sea is hard, and where great poverty is not at all unknown. If you remember this, and get behind the picture-postcard image with my help, your visit to Zanzibar will be greatly enriched.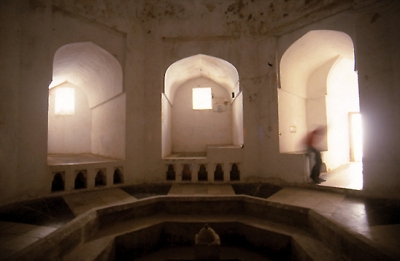 Highlights of my tour with Salim included a visit to Muhurubi Palace, a little to the north of Stone Town. It was built by Sultan Barhash to house his harem. At onetime, he reputedly kept 100 women here: one official wife and 99 concubines. Unfortunately, the palace was destroyed by a fire in 1899. All that remains today are the great pillars which supported the upper storey, and the Persian- style bathhouse. The original water tanks also remain in the grounds of the palace. The ruins can be romantic and it is pleasant to wander down Muhurubi's avenue of mango-trees, imported from India, or to sit, as the women of the harem must have done,by the ponds with their carpets of green lily pads and star- petalled flowers of cerulean blue.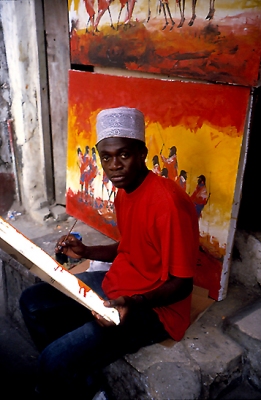 History, as always in Zanzibar, is never far away. If you are interested in the easily missed facet of a foreign way of life, there is always something to see. I hope you can join me there next January. You will not be disappointed.
Please contact Steve as soon as possible, if you are interested in joining him on a tour of Zanzibar - it will be an experience you will not forget!


---
About the Author: I'm an English, Professional, Freelance Travel Photographer, living in Western Crete since 1987.
From here, my travels start, taking shots for Photo Libraries such as Getty Images/Stone, as well as having commissioned work from publishers of Travel Magazines such as Conde Nast Traveller and Travel Guide Books.(Berlitz, Fodor's, Insight etc) A hectic lifestyle I thoroughly enjoy!
I always try and find time to shoot personal images and my style involves elements of color, graphic design and texture. Plus, I pass on my knowledge and advice to people who attend my Photo Workshops which are held in Crete and Zanzibar. People have to teach themselves and learn by their mistakes. I just let them know what's going on and show them the doors to open to increase their creative visual awareness.
---
You can see more of Steve's work at the following websites:

Profotos - Steve Outram
Steveoutram.com