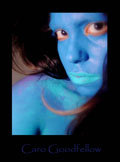 Member Since:
May 7, 2008

Total Images:
34



Photography Books
Up to 50% off!
Click here to visit our photo bookstore where you can order photography books to help you creat better images. Treat yourself to the gift of better photography through reading!
Profotos Member Biography - Caro Goodfellow
I am a Venezuelan Artist. I went to art school to get my BA in studio art and psychology. Art has always being part of my life and just few years ago I discovered the wonders of Photography.
I love photography because it has endless possibilities. Through a camera you could capture different angles and scenes transforming them into a mixture of "ink and paper art" with reality. It is like drawing with a camera. What amazes me is the possibility of getting things out of context and make them look dreamy and unreal. A piece has turned really well when it surprises me. An idea begins in my mind and works its way out sometimes without my conscious output. When it happens, it becomes my work of mind. My work is full of deep colors, images with a lot of personal emotions and in general surrounded by a dreamy like atmosphere. I enjoy very much doing what I do, and would like to be able to continue exploring the depth of this kind of art.
Sample Images from Caro's Profotos Portfolio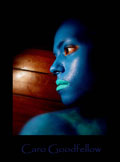 Category(s):
Digital, Fine Art, Personal Exhibits, Portraiture

Contact Info:
po 288-2100
Guadalupe, Goicoechea
San Jose, 2100 CostaRica
PH: 506-8833-7542