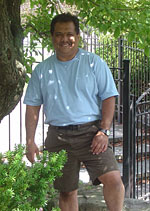 I consider myself an amateur photographer. I have had no formal training. I've been taking photos for about the last 5 years. To me the beauty in photography is revealing the subject in all its essence whether it be a nature shot or in an individual. The soul is somehow captured in just the right smile and just the right turn of the head. It's amazing.
I've been encouraged by friends to persue the craft saying that I have an "eye"...whatever that means. But I do find it encouraging.
I have just retired as an elementary school principal after 32 years and am looking forward to retirement and taking more shots. You may find a slightly spiritual bent to my photos as as said earlier that I truly believe the essence of the subject is revealed somehow through the angle of the lens.
It is definitely a passion. Looking at the world through the eyes of a photographer is truly a blessing because it gives so much joy.
I am of Hispanic descent. Mexican American to be exact. I was born in Laredo, Texas in 1950. So you may see a touch of culture in my photos also.