-A Lens With a View: Part 4-




by Robert A F van de Voort
---

This and the following articles will introduce the view camera to the reader who is completely unaware of the possibilites, the surprises and ease of use of the big black box, my favourite working tool.

---
F22 equals F5.6? Scheimpflug explained, well kind off…. seeing is believing
We have now read enough information in previous articles to actually start our fab view camera in action. The very impressive fact of achieving a depth of field that equals F 22 on your 35 mm camera with our view camera set on a mere F 5.6 …. It is something that most of us would love to see when we take product shots when everything has to be sharp. Yes there are still clients out there that manufacture products that require total vision and not a generic visual idea covered in visual out of focus effects with cross processing.
May I fall back on the 35mm camera as the first illustration?
The image is projected by the lens on the negative, I assume that the lens is mounted on your camera parallel with the camera body and the negative runs parallel with the back of the camera. If your camera is placed horizontal, a line drawn from the top of your lens would go "plum' down to the bottom of your lens, the same with a line drawn at your negative. Both lines run parallel unless your camera has been run over by a truck. When you focus with your lens with wide-open aperture you focus on an "invisible" line on you object, like the front edge of your box of tissues. Again, I assume the box of tissues sits horizontal in front of the lens, but on an angle of 45 degrees below us.
This sharply focused "line" will run parallel with your lens and negative and you will only see one point sharp on that given distance from the lens. See diagram. Sorry if I seem to be preaching to the converted, but I hope that the aspiring photographers who want to use the wonder box (read view camera) will understand what follows.
Most of us understand when the lens stops down you select a higher aperture number, which represents a smaller aperture hole in the lens. This will increase the "depth of field". It will as a rule of thumb extends 2/3 away from the line you focussed on with wide-open aperture, and move about 1/3 closer to the lens. So if you have stopped down the area of focussed sharpness has increased from it original single line point to an area that may cover now a distance of say 30 centimetres of sharpness, say 20 centimetres away and 10 centimetres closer. But still within the parallel lines…
That is the 35mm SLR and medium format camera problem; they cannot do what the wonder box can do in the following sample.
I replace the 35mm camera now with the wonder box and as usual, that camera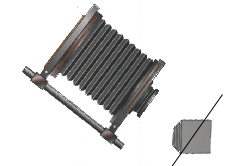 always starts its work from the zero position, in other words exactly as the 35mm camera is built.The line through the little tissue box represents the sharpness that you have focused on.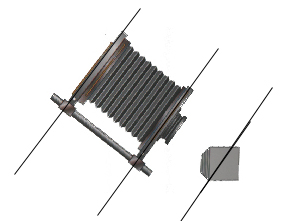 Now we go to the tricky bit; if you would draw a line through the image panel in the back, the lenspanel in the front all three lines would run parallel.
Now if we can make these three lines meet in one point we will have a different field of sharpness extending from close to the lens into the distance and not parallel with the lines of the image and lens panel. This was discovered by Mr. Scheimpflug, a gentleman of German extraction, who is now famous called The Rule of Scheimpflug. This is such a gem of an effect, it allows creativity and accuracy all at once.
Lets see how we can do it: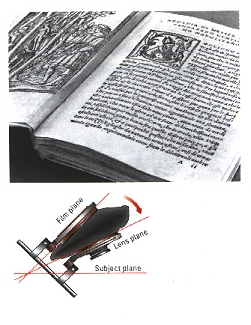 Can you imagine when you draw a line through the image panel and one through your subject matter that you want sharp, you will have to tilt or swing or move your lenspanel until the imaginary line through that lenspanel is meeting in the same point. Now you have sharpness on the whole line of your subject matter.
By moving the lens you do not change the perspective, that happens when you move the image panel. Remember that is because the lens panel projects it's image on the image panel. So in order to get things all sharp on a line that does not run parallel with the image and lens panel, draw a line through them that meet in a common point. This can be above or below, on the left or right of the camera. My favourite sample idea is a chess board, just replace the book in the diagram sample with a chess board and you would see all the squares sharp, from beginning to end with a wide open aperture.
Here comes a bit of imagination: When you put things like pawns on the chess board are they sharp? NO!
How do you make them sharp? Use your aperture to "thicken" the depth of field above the chessboard by stopping down to a higher aperture number like F 11?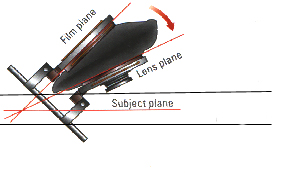 Do this by focusing one third from the top of the highest piece instead of the chessboard's imagenary line. The depth of field will extend one third towards you - covering the top of the chess pieces, and it also extends two thirds away from the lens, thus reaching the chess board. The space above and below the subject plane line is your depth of field at F11 for example.
Clever? Nah, just applied my imaginary lines.. just stand next to your set up and draw your lines through the bits I mentioned and another view opens up for you.
Drawings reproduced from "Photography Sixth Edition" by Barbara London and John Upton, a book I thoroughly recommend to study photography.
---
This article was first published in the Photographers Mail - New Zealand - June 2001. Article copyright Robert A F van de Voort 2001, can be reproduced unabridged with reference to author.
Lens With a View Series:
Article: 1 2 3 4 5 6 7&8 9 10 11 12
---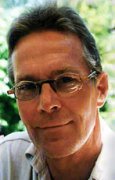 Robert van de Voort is a professional photographer and writer, with his headquarters located on the North Island of New Zealand. Robert's professional photographic career spans the course of over 20 years, with work in stock, advertising, studio, digital photography and much more! You can learn more about Robert and see examples of his stunning work by visiting his website at
www.AlbanyStudios.co.nz
.
---
The staff at Profotos.com would like to thank Robert for his generous article contributions, and we would like to invite you to come back next month for more of Robert's "A Lens with a View" series!