-A Lens With a View: Part 6-




by Robert A F van de Voort
---
This and the following articles will introduce the view camera to the reader who is completely unaware of the possibilites, the surprises and ease of use of the big black box, my favourite working tool.
---
Remember when we were young and played with the soapy bubbles? Those beautiful colours when we caught them in the right light…we can create these colours now again but it is not children's play anymore.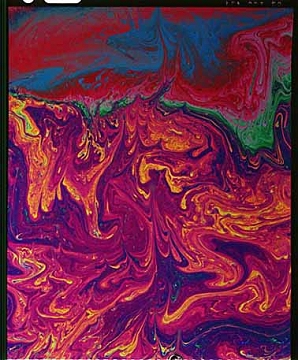 We know enough now of my fab (and yours?) magic box to have some "childish" fun with it. I want to do something that only the view camera can do and lets have an in-depth look how we get these fantastic images on film.
How do we get these soapy colours visible? The normal round bubble is total see through, and only reflection of the skin of the soapy film will show the colours of the emulsion of the bubble. We have to shape the bubble into a reflection surface to show them. I used a metal 10 x 12 cms film holder to process my sheet films in. I dipped my metal frame in the soapy liquid (water and normal commercially dish washing liquid concentrate) and got a soapy film stretching to all four sides of the frame.
The film is transparent; you can look right through it. To reflect a surface we have to do something similar like we do to photograph mirrors. If you place a light bulb in front of the mirror you light up the mirror and you see a magnificent light bulb reflected. If you want to show the mirror as a mirror, we have to reflect something that is the opposite of the light bulb. Place a see through reflection panel bigger than the mirror in front of the mirror, the light bulb behind the whole see through panel. It will now act like a big even light source and it will reflect as a more or less an even surface in the mirror.
In a similar fashion, if you point a light bulb or small flash to the soapy film surface it will reflect as a point source in the soapy film as a bright spot. You will not see a reflection of the light over the whole surface of the soapy film.
Ok, now we know how to light that soapy stuff. We bring a soft box that is decidedly bigger than our 10 x 12 cms frame in front of it and we will see the beautiful soapy colours. These colours are created when the light enters the soapy suds and the minute differences in the thickness of the soapy film you get different light phases like a prism. The thinnest pieces do not refract much light at all; you normally find these thin areas at the edges of your metal frame. The colour of your background will be than visible. I recommend you use a black surface as a background, as matt black as possible because you are aiming your light box straight at it. Move your black background as far as possible away from your metal holder with the soapy suds. As the light travels further behind your soapy film it gets weaker and weaker the longer it travels from its light source, this will minimise any light reflecting from your background.
The soapy film is very fragile and does not last long; you may have to experiment with the amount of your dish washing concentrate liquid you add to the water. The age of your solution, the ambient temperature and humidity of the air in the studio all add up to the difficulties of extending your soapy film's life span. How infuriating it has been to see my colours of the soapy film arrange them self in a wonderful pattern to explode into oblivion just when I pressed the shutter. However, there is a blessing to that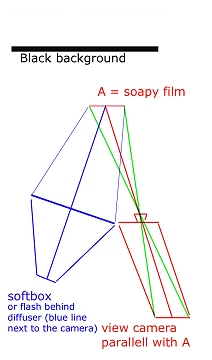 unfortunate incident. Since you have photographed "nothing" (your soapy film exploded) and the black background did not receive any light, you can expose that film inside your view camera again.
Of course, when you have photographed the frame around it because you could not get close enough the metal frame that holds your soapy suds will over expose but your bits inside the frame will not when you expose your sheet film again inside the camera….
Now we come to the difficult bit, to see these colours of the soapy film we have to place our soft box slightly on an angle opposite the frame that holds our soapy film. To see the reflection of the light on the soapy film the film plane of our negative or transparency has to sit parallel with the frame that holds the soapy film. If you place your view camera similar like my diagram, you will have no problem to see the brilliant colours on your viewing screen.
How to expose for this event? Since the substance we are photographing is see-through, we cannot take a reflected light reading. A grey card held in the position of A will tell you the amount of light reflected of the card and will give you an exposure reading. However, the view camera has an extension of "whatever centimetres" between lens and negative. We have to take the loss of light into account after the light has travelled from A to the lens. In a 35 mm camera there is no light loss because the negative sits so close behind the lens. In our view camera the distance could be quite a lot.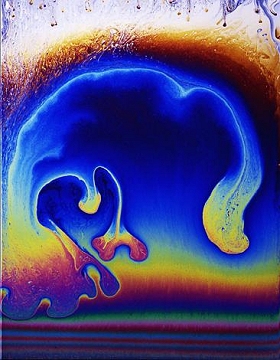 The formula to arrive at the amount of light loss in F stops measure the following:
Bellows extension = distance between lens and negative in the back is say 30 cms
Your lens to shoot it with is 150mm (standard lens for a 10 x 12 cms view camera)
The bellows extension length as measured = 300 mm
Divide this number by your focal length of the lens (150mm) 300:150= 2
Open your aperture two stops…. Simple?
Clever people will notice that any bellows lens distance equal or lesser than the focal length of the lens used will have no effect on the exposure….
Do not go bananas and start getting too critical; close enough is good enough when you are shooting colour negative material. If you are going to shoot transparency, I advise you to measure reasonably accurate. Shoot two sheets with the same exposure. Let your lab process sheet one normal; hold the other sheet until you have seen the first sheet. Than if the image is too dark or light, let the lab push (make the transparencies brighter) or pull (make the transparency darker). They should be able to advise you how much or how little. Most labs do not charge more for this service.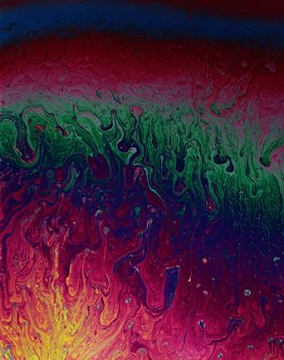 Another formula to arrive at the correct exposure when you have a some bellows extension use this formula:
(bellows extension distance in mm)2 divided by (focal length of lens used in mm)2 = bellows extension factor.
Unfortunately, extension factors are not the same as F-stops.
For example, an Extension Factor of 2 is one stop (open up more)
EF of 2.8 is 1.5 stop
EF of 3 is 1.6 stop
EF of 4 is 2 stops
EF of 6 is 2.6 stops
EF of 8 is 3 stops
EF of 16 is 4 stops ...get the feel?
If you like to read more info on technical formulas relating to the fab black box view this web page http://www.johndesq.com/formulas/formulas.htm
PS After all this technical hoohaah, you still like to play with those bubbles?
Enjoy!
Perhaps you can come up with something more exciting than my straight metal frame to put the soapy film in…tell me about it…….after all I have told you a few things now….Viewing you next month.


---
This article was first published in the Photographers Mail - New Zealand - July 2001. Article copyright Robert A F van de Voort 2001, can be reproduced unabridged with reference to author.
Lens With a View Series:
Article: 1 2 3 4 5 6 7&8 9 10 11 12
---
Hey guys, any questions or comments? It is so hard to explain a view camera on paper and such joy to experience in real life that words sometimes are failing me to explain it nicely. All the responses received have been positive, thank you all for your feedback! Readers are invited to view some of my escapades into photography on
www.AlbanyStudios.co.nz
or send Email to me at hotshot@ihug.co.nz with your questions.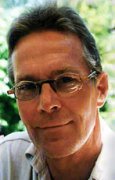 Robert van de Voort is a professional photographer and writer, with his headquarters located on the North Island of New Zealand. Robert's professional photographic career spans the course of over 20 years, with work in stock, advertising, studio, digital photography and much more! You can learn more about Robert and see examples of his stunning work by visiting his website at www.AlbanyStudios.co.nz.
---
The staff at Profotos.com would like to thank Robert for his generous article contributions!