-Digital Wallet Review-


(A Lens with a View, Parts 7&8)


by Robert A F van de Voort
---

Readers might know me from "Lens with a view" series, dealing with the large format cameras. This time it is a digital view, and I relate my experiences with the 10 Gigabyte Digital Wallet of Minds@Work.
---
The previous articles have all been rather technical and detailed about the view camera. A recent assignment overseas and a holiday added was a lot of fun, the Sinar was left behind and my digital camera came with me. There are some analogies though with the Sinar.
As with the TC (Technical Camera) making many photographs on location is not that easy, you have to load your double-sided dark slides and fifteen of these for making thirty photographs take up quite some bulk. My Olympus 3040 camera takes about 27 Jpeg, high resolution photos on my 64 MB card and then the card is full.To take more shots you have to buy another card, I presume the cost of such a card could be the equivalent of the cost for the dark slides. I do not have a laptop, one pc is drama enough. In addition, I want a break from Emails and give my eyes a rest from my computer screen.
Thus on my trip I could not download the images after filling up my only 64 MB card. When you go for 6 weeks you are bound to shoot more than 27 shots and compressing them to a lower quality was not advisable.
The solution to my problem became the Digital Wallet from Minds@Work. This wonderful device holds 10 Gigabyte of storage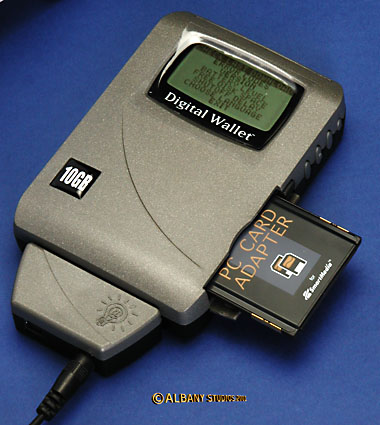 space for about the same price as four 64 Megabyte cards. By now this price might even be lower.
Apart from storing images, you can download Powerpoint presentations, other files from Word , Games (who needs those..), MP3 and so on, almost anything goes in, if it is Mac or PC - no difference.
To get my images in the digital wallet I took my smart media card out of the camera, inserted it inside the PCMCIA card adapter which slides in the side of the digital wallet. Push the power button, select download and super fast your 64 Megabytes are transferred, two minutes max. It not only takes a smart media card, the Sony memory stick, IBM Micro drive, Compact flash, Intel Strata flash, Multimedia card all will work.
The wallet is battery powered, so you can do this anywhere. After the download is complete, a message appears on the big LCD screen stating that the download was successful.
If there are problems with the download, there is a host of messages that can pop up to tell you what could go or went wrong. Fortunately I did not experience any of these problems, all my downloads went super fast and without a hitch.
I could see this device operating in my studio, the download to the wallet is faster than through the conventional Olympus software (which needs to be overhauled too!). If you have it all set up, the download could be as fast as changing a film at leisure. While I am writing all this at ten thousand meters above the Caspian Sea I am still curious how my shots look…
Photographers love deadlines, I received this device 4 hours before departure from New Zealand, just enough time to load and charge the dedicated battery pack for their initial charge.
I did not have time to install the program on my PC and do a test run. Therefore, I trust that technology will not disappoint me and on my return will see the shots I was asked to bring back. Of course I sometimes checked my images after shooting them on the LCD screen on the camera, but not all of them.
I completed my experiences with the digital wallet while on location, on boats and aeroplanes, no difference it kept on performing without having to consult a manual, it is idiot proof. I have written my last words of this segment, the deadline for my article is one day after my arrival. Once back at work in the studio I will tell you more about the installation of the software on my PC. I am now going to sit back and enjoy the rest of the in-flight entertainment.
Ok, the plane has safely landed, I am back on earth and in the studio. I can now safely say that all my images that I trusted to the Digital Wallet have been safely downloaded on my PC in the studio.
To expand a little more on how these things work I'll start at the beginning. The installation CD installs the program on the PC and establishes a USB connection as an Icon on the desktop. The manual did tell me to do other things and nothing worked because it is Mac oriented, but after a little thinking it was obvious what to do and it was running smoothly. The usb connection is fast, I had a few gigabytes of photos and after a cup of coffee all files were in the destination folder on my hard drive.
Each time you save from the camera or pc information on the wallet, it will assign a DW0001 file and so on. It makes sense to write down what you have downloaded because I had about 34 files on that thing and the numbers did not mean that much to me after 8 weeks from starting the first file…..After the download I have since opened all files and have not encountered a single corrupt file.
Just for fun I grabbed a big folder on my hard drive and dragged it to the Digital Wallet icon in "Explore" (right click "start button) and presto everything moved into the wallet. Times of uploading are reasonable fast. I am now entertaining the idea of transferring all of my hard drive onto the wallet because I am just under the limit of 10 Gigabyte. Then I will install a new bigger hard drive like a 40 Gig or higher and use my existing disk for exclusive use of my picture programs. Now the big question is will that work? My feeling is that it will work and my PC maintenance/set-up man confirms this.
On the installation disk are a few other "amateur" photo programs that will do nothing but entertain the family snapshooters. (no disrespect - it is a mass market out there!)
The Arcsoft programs include: A media browser that builds slideshows or presentations and can send images by email from within that program, even can make video postcards…
A program called photofantasy: An absolute silly timewaster where you can place your faces on other bodies or situations but fun if your mind likes that type of thing, putting your face on a body builder or swimsuit calendar poster….etc.
A program called: PhotoIsland.com This is a website connection where you can get free photos (don't you hate that - you don't get paid for your photos you shot) from that site, or build your favourite album on the web and share it with billions of eyes.
There are many other "interesting" features on that site, have a look, you do not need a digital wallet to get there.
A program called: Photomontage. I had a brief look at this one and it seems interesting to work with. It rebuilds your original image with miniature photos in the density of your original, creating a mosaic effect of little images in the shape of your photo.
A program called: Photo printer. This can be useful when you want to print one photo in a variety from a single image to multiples in different lay-outs onto one sheet of paper.
For more professional use there is a smart back up program, the software is to be downloaded from the net and saved with a serial number from the installation disk. SmartBack Jr. and here I quote because not all of this is important to me but may to some of you out there - "enables users of such devices as digital cameras, desktop and laptop computers, and more, to send data to the hard drive of the Digital Wallet device or to another hard drive location. It also includes SmartScan(tm) anti-virus protection, manual and automated backup, and quick file recovery features. The integration of SmartBack Jr. with the Digital Wallet device is the first such offering that supports Rutilus' strategy to provide intelligent data protection solutions for a wide range of storage media requirements, from portable storage devices, to NAS and storage area network (SAN) environments. SmartBack 2000 and SmartBack Jr. are compatible with Windows(r) 95, Windows 98, Windows NT 4.0 and Windows 2000." End quote.
At the time of publication the software was not available from the site, thus I can not say too many nice things about it. I am disappointed in the lack of professional imaging software on this disk. But I did not get the wallet for that reason….. I wanted a reliable, economic storage device that I could use with a variety of cameras and clients"s computers etc. out on the field and in the studio. It worked, is fast, it is small, idiot proof, rugged and easy to use, even in a chopper with the doors off but don't let that smartmedia card fly out your hands...
This article may reproduced only in its entirety with reference to to the author and website. The opinions in this article express my personal experiences only and I accept no responsibility for the effects this might have on the reader :-).
---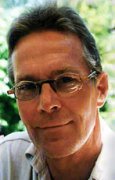 Robert van de Voort is a professional photographer and writer, with his headquarters located on the North Island of New Zealand. Robert's professional photographic career spans the course of over 20 years, with work in stock, advertising, studio, digital photography and much more! You can learn more about Robert and see examples of his stunning work by visiting his website at
www.AlbanyStudios.co.nz
.
---
The staff at Profotos.com would like to thank Robert for his generous article contributions!